USING THE POOL
Use pool at your own risk. We are not responsible for accidents or injuries.
No glass or sharp objects are allowed outside in the pool area.
Be considerate of our neighbors – no yelling or loud noises.
No diving into shallow areas of pool. No running.
Children are not allowed without adult supervision.
Please double-check that the pool alarms on the doors and windows are working properly if you do have small children staying at the house.
The pool waterfall should run throughout most of the day, and the pool light will be on in the evening. If you would like either on when they are not, please message/text us, and we can turn them on remotely. The pool heater will be on from November to April. Please do NOT touch any of the pool equipment in the backyard as you could cause severe damage.
Plastic plates, glasses, and serving dishes are available in the kitchen for outside dining. There are two pool towels available for your convenience. Please do not remove these from the house.
---
PLAYING MUSIC IN THE PATIO AREA
The Onkyo receiver in the living room also controls the audio played over the speakers by the patio. The input source and volume are controlled via ZONE 2. Feel free to connect any audio source you prefer. The receiver does support Bluetooth. With the receiver on, switch to the Bluetooth input and connect your Bluetooth audio source to "Onkyo TX-NR777 EB2689".
To play music in the patio area (ZONE 2), it is easiest to set the input and volume on the main receiver itself. On the main unit, after pressing the "ZONE 2" button, within 8 seconds press the input selector button to select the input to be played on the patio. To play the same source in the main room and separate room, press the "ZONE 2" button on the main unit twice. To control the volume on the main unit, press the "ZONE 2" button and adjust with the MASTER VOLUME control within 8 seconds.
---
USING THE TV IN THE PATIO AREA
Simply uncover the TV and use the buttons on the side to control the power and volume. The TV also has Roku like all of the TVs inside.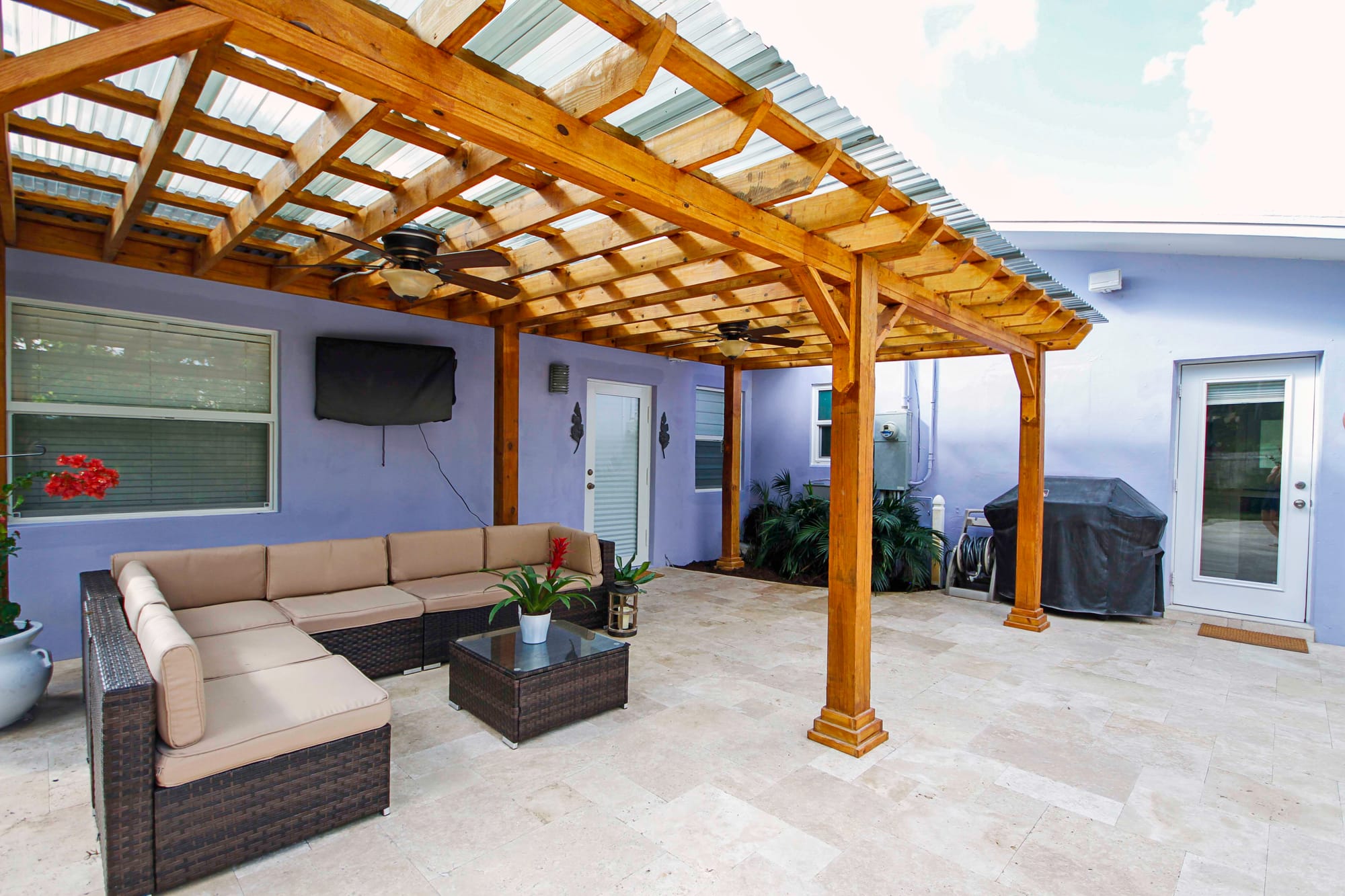 GAS GRILL
A propane gas grill is provided for your cooking needs. Please use caution as propane gas is extremely flammable. Utensils are located in the kitchen to the right of the stove. Please clean the grill after each use for the next visitor. When finished, PLEASE BE SURE TO TURN THE GAS OFF AT THE PROPANE TANK TO PREVENT ANY DANGEROUS LEAKS.