NOISE
Our home is located in a residential area, please keep noise to a minimum at night after 10:00 p.m. If there are complaints from the neighbors, the guest is responsible for all resulting fines. Below is the ordinance directly from the City of Fort Lauderdale, Chapter 17 "Noise Control".
"NOISE: Be advised that any sound shall not be plainly audible for a period of one (1) minute or longer at a distance of twenty-five (25) feet or more when measured from the source property line between the hours of 10:00 p.m. and 7:00 a.m. daily and at a distance of fifty (50) feet or more when measured from the source property line between the hours of 7:00 a.m. and 10:00 p.m. daily."
---
SMOKING
Our vacation home is strictly smoke-free. Smoking and vaping are not allowed anywhere on the property and can cause damage that may require more extensive clean up due to odor, soot, trash, and the possibility of fire. Any violations of this will result in loss of entire security deposit.
---
PARKING
Onsite parking is available for three cars, one of which is covered under the carport. Please review and adhere to the parking map below. Parking on the street or grass is strictly prohibited by the City of Fort Lauderdale and may result in fines. Guests will be responsible for all such fines.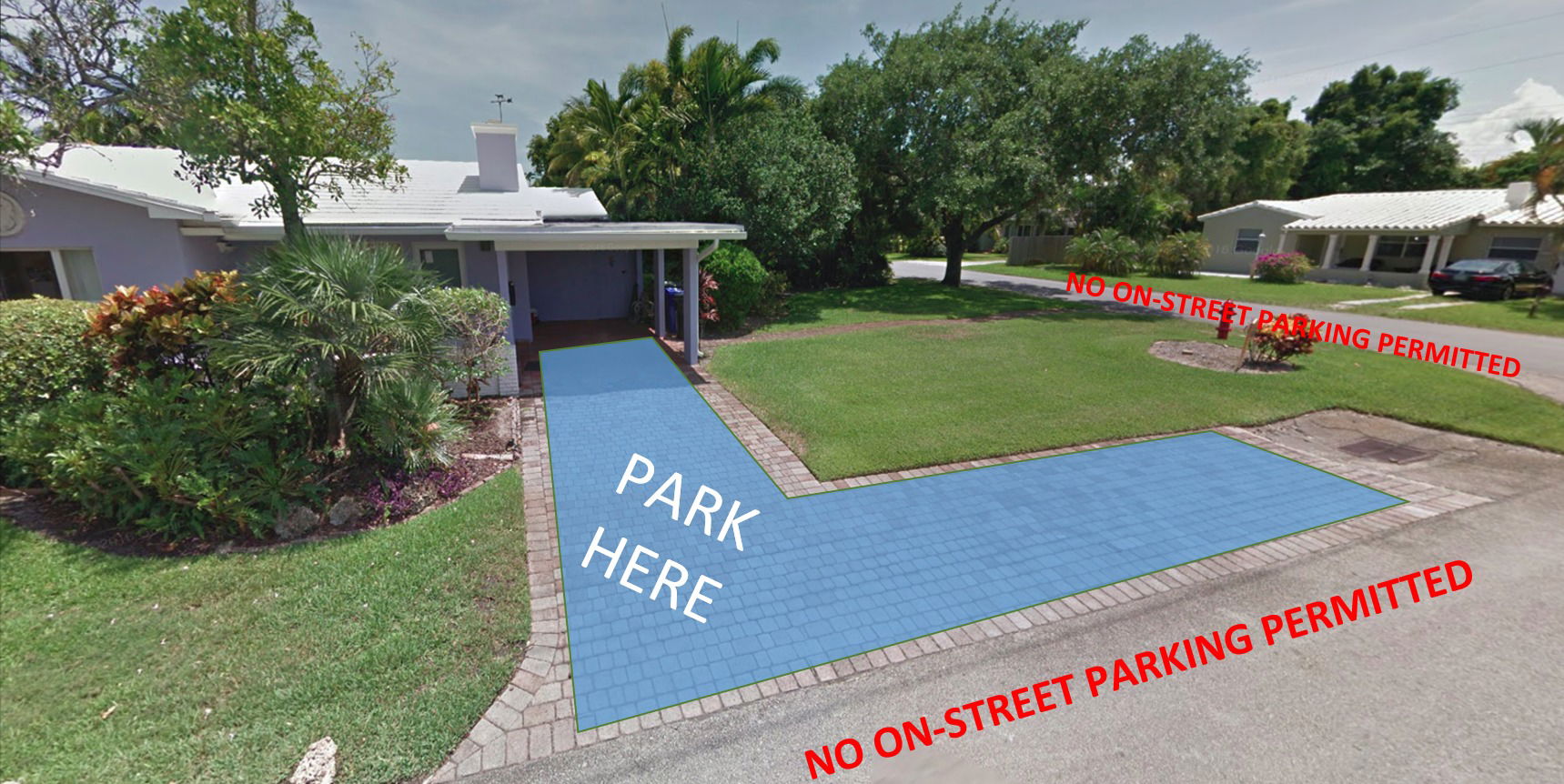 ---
SWIMMING POOL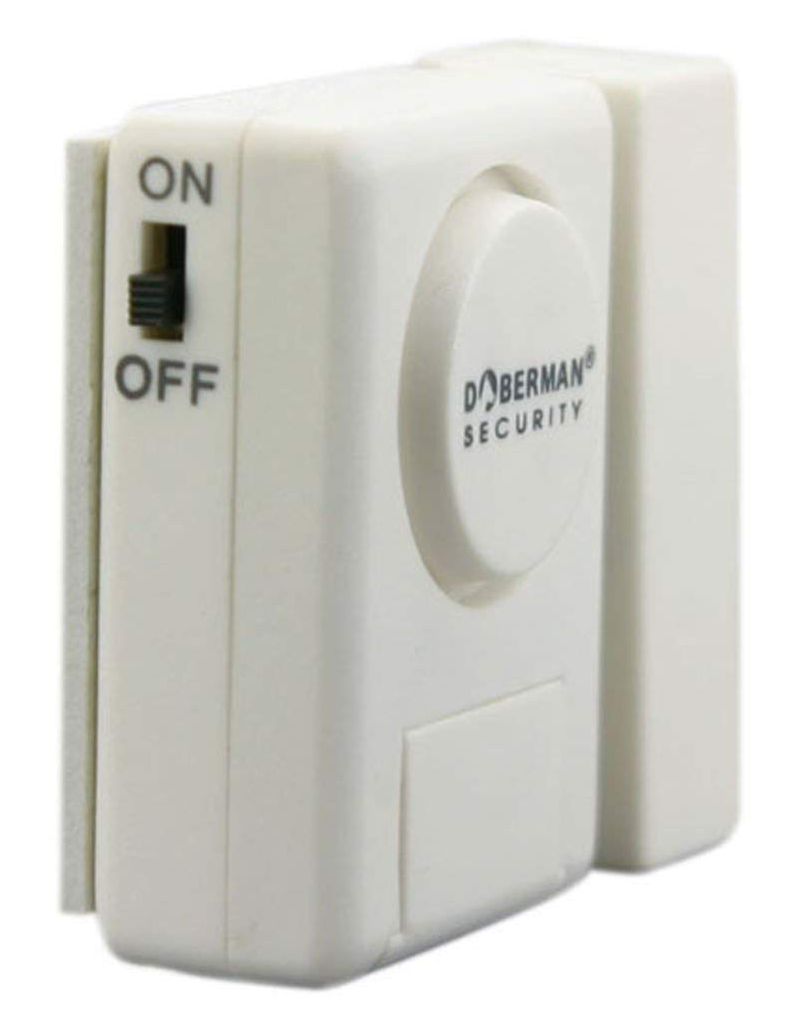 Please note that this vacation rental has a swimming pool on property. By booking this vacation rental, guests are agreeing to assume all liability with respect to use of the pool and that the host is not liable for any incidents related to the pool. Any children in the home should be closely monitored and access to the pool should be controlled at all times by an adult. There are pool alarms installed on all doors and windows with access to the pool. If you do have small children, please double-check that the pool alarms are working properly immediately upon your arrival. Children should also be supervised by an adult at all times when using the pool.
---
GUEST MAXIMUM AND EXTRA GUESTS
According to the Code of Ordinances for the City of Fort Lauderdale, the maximum number of overnight occupants in this vacation rental shall not exceed six (6) adults and four (4) children under the age of 13. No outside visitors or overnight guests beyond what was specified in the Airbnb reservation are allowed without prior approval by the host. No parties or other events allowed on property.
---
PET POLICY
We love our furry family members! However, for the sake of all guests, we do not allow pets of any kind in our home.
We understand service animals are not the same as pets and serve a crucial function for their owner. Only dogs are recognized as service animals under Titles II and III of the ADA. Under the ADA, service dogs must be harnessed, leashed, or tethered (unless the guest has no use of their hands for control of the leash). The host should be notified at the time of booking if service animals will be staying in the home.
---
EATING AREAS
We kindly ask to keep all food and drink to the designated eating areas especially for anyone under the age 12.
---
PLUMBING
To avoid plumbing issues, please flush only toilet paper. Do not throw paper towels, feminine hygiene products, wipes, or trash in the toilet.
---
SECURITY
Please note that the house is equipped with a video doorbell camera that records all activities in the front of the house. This is for the safety and security of our guests and our home. Disabling or tampering with the camera is strictly prohibited and is grounds for immediate cancellation of the remainder of your reservation with no refund. Also, both fence gates are to remain locked at all times for safety and security reasons. If you should need to open the gate for some reason, please message the owners.
---
DAMAGE AND BREAKAGE
Accidents happen. Please report any damages or breakages to the host in a timely manner so that we can repair the situation as soon as possible. Any associated costs will come out of the security deposit. To avoid more extensive damage, please do not move furniture.
---
PROHIBITION OF SEXUAL OFFENDERS
Pursuant to Code of Ordinances for the City of Fort Lauderdale Section 16-127, this vacation home is within 1,400 feet of a school, and therefore it is unlawful for a sexual offender or sexual predator to occupy this residence.
---
OTHER HELPFUL INFORMATION
City of Fort Lauderdale non-emergency number: (954) 828-5700
Medical Clinic or Hospital: Holy Cross Hospital, 4725 N Federal Hwy, Fort Lauderdale, FL 33308. (954) 771-8000. Open 24 hours. 3.5 miles from house.
Fire and Police Department:
Fort Lauderdale Police Department, 1300 W Broward Blvd, Fort Lauderdale, FL 33312. (954) 828-5700. 3.6 miles from house.
Fort Lauderdale Fire Department Fire Station 29, 2002 NE 16th St, Fort Lauderdale, FL 33304. (954) 828-4829. 1.2 miles from house.
---
EMERGENCY INFORMATION
Call 911 for emergencies that require immediate assistance from the police, fire department or ambulance. Fire extinguishers are located under the kitchen sink and a first aid kit is in the reach in closet.
---
EXTREME WEATHER
Hurricane season for Florida is June through October. As with every hurricane season regardless of forecast, knowing the essentials of how to prepare could truly be a life saver. Evacuating should always be your first option to escape the dangers of a hurricane. All windows and doors leading outside are hurricane resistant. If you need to stay home:
Stay inside
Stay away from windows
Water (enough for 3 days)
Non-perishable food (last at least 3 days)
Flashlights with batteries
Candles, lighter, matches
Fill up gas tank
Charge cell phones and limit use